SOG® uses a specially developed small high-performance ventilator that automatically turns on when the toilet's gate valve is opened to create negative pressure in the waste holding tank.

The resulting suction (in German, "Sog", which gives the SOG® system its name) at the gate valve opening causes fresh air to be sucked into the system before being filtered to the outside together with the odours produced when the toilet is used. This flow of air acts as a seal and fully prevents any unpleasant biogas from escaping from the tank. After the ventilator has automatically switched off, the unit continues to provide ventilation to the outside and a closed system on the inside.

SOG® works without chemicals.
This active toilet ventilation solution not only puts a stop to unpleasant odours but also offers the major advantage of doing away with the constant need for toilet additives. SOG® provides an increased supply of oxygen both during toilet use and when the gate valve is closed and therefore ensures optimal decomposition at all times.
The SOG®system's tube connection leading to the outside guarantees constant ventilation alongside the electric forced ventilation. This deliberate supply of oxygen into the waste holding tank accelerates the decomposition process. Even normal toilet paper is decomposed at rapid speed, thus eliminating the need for special paper.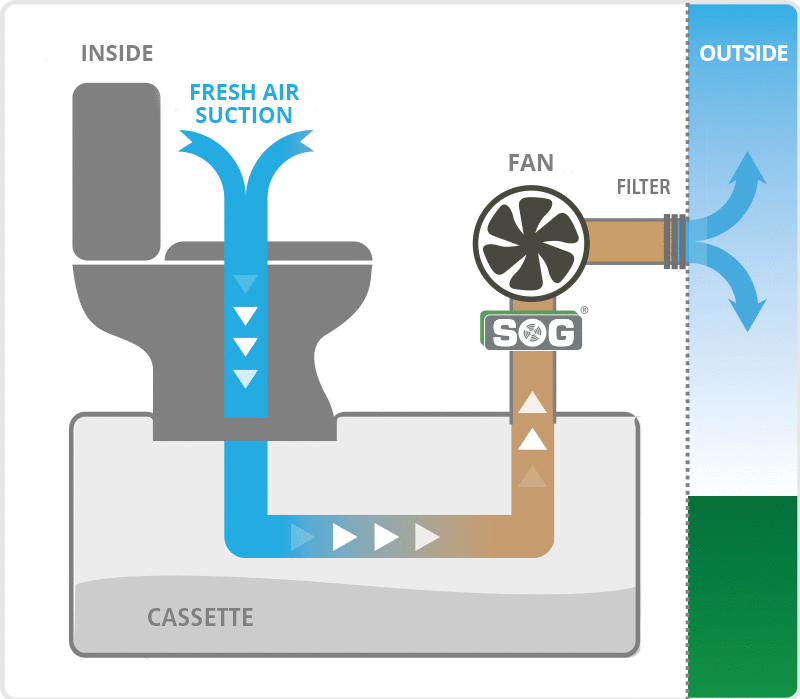 Using technology to make active use of oxygen
Our active SOG® -toilet ventilation requires no chemicals whatsoever. This makes it the perfect solution for both the environment and your wallet because you no longer need to use expensive sanitary additives.